Looking for some
great horse games
? Here's a great selection of games for horse lovers for you to choose from. Horse lovers will be thrilled with hours of fun from these fantastic selections. Horse games make a great gift for any horse lover!
Here''s a board game that''s fun, stimulates the imagination, and teaches kids strategy, horse care, types of disciplines and training, and, most of all, that being the first to cross the finish line doesn''t necessarily mean you''re the winner. Trot around the lively board as you collect points for training your horse. For 2-4 players, age 7 and up.

Gallop Home Game
America''s favorite board game gets some beauty, strength, grace and agility, not to mention some real horse sense, in this new Horse Lovers edition. Instead of properties, you buy, sell and trade horses, and instead of houses and hotels, you build stalls and stables. Comes complete with pewter game tokens-a horse, boot, saddle, horseshoe, apple and trailer. Made in USA. For 2-6 players, age 8 and up.

Monopoly Horse Lovers Edition
Choose from three of the most popular games for horse lovers, together in one set! In Blue Ribbon Show Jumper, players ride on fabulous courses both indoors and out. My Riding Stables gives players the chance to design and build a farm, upgrade the stables and breed your own foals. In Championship Riding Star plyers feel the magic, balance and rhythm of riding in a realistic 3-D simulation. Compatible with Windows Vista, XP or Prior. Age 8 and up.

I Love Horses 3 Pack PC Game
Grab the reins and gallop into a horse lover''s paradise! Choose your own horse to ride and love as you learn the ropes at the best camp around. Activities like obstacle courses and scavenger hunts provide hours of creative fun! Compatible with Windows(tm) Vista, XP or prior. Age 8 and up.

Horse Camp Game
Your little buckaroo will have hours of fun with this Horse Ranch Play Set. This unique 10 x 10 x 2 wooden sandbox features a 20 x 20 no-mess play mat and ultra fine sand. You'll find a cowgirl, ranch gate, doggie pal, horses, fencing, horseshoes, grooming comb, hay, riding trophy, feed bucket, hay bale, boulder, shade tree, grooming rake and digging shovel. It's a great way for kids to have creative fun, all packed in a neat little box. So saddle up and dig in! Ages 3 & Up.

My Little Sandbox - Horse Ranch
HORSE-OPOLY is a property trading game based on our equine animal friends. It's a game that actually encourages horseplay! The board features different breeds of horses while each property deed teaches players a little about that breed of horse. While playing the game, players can choose to be a bail of hay, saddle, horseshoe, horse trailer, bag of oats, or a boot! They buy barns and trade them in for stables while trying to become the richest player in the game. So hop in the saddle and take this game for a ride! Game play is for 2-6 players, ages 8 to adult.

Horse-opoly Game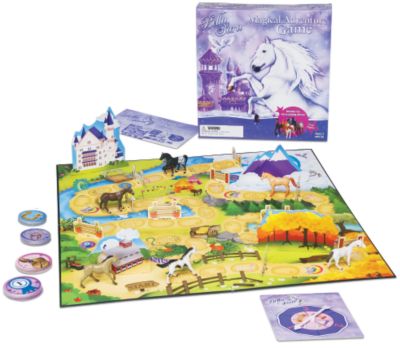 Laugh jump and ride your way through North of North with the Bella Sara Magical Adventure Game Bring the magic of Bella Sara to life with this exciting board game.
Great for family game nights you will be on the edge of your seat with this fantastic adventure Toy horse playing pieces add to the fun. This game is designed to extend the online play experience and is perfect for 2-6 players ages 5 and up.

Bella Sara Magical Adventure Game
Classic games from then and now! Plan a family game night! Everything you need to play! Players battle to get each of the five animals on the farm: rabbit, sheep, pig, cow, and horse. Players build and trade their way to a complete "herd" of animals, and try to avoid rolling the hungry wolf or sly fox that will make a meal out of the herd. Includes 2 special 12-sided dice, 120 animal tiles, 1 silo container and instructions. Ages: 8 and up Players: 2 to 4

Have You Herd? Game